What We Do
Designers for Learning seeks to pair volunteer college students currently enrolled in instructional design programs within service-learning projects to benefit organizations with a social mission. The service-learning projects come in a variety of forms, but are founded in learning and performance improvement within the organization. As part of both instructional and non-instructional projects, performance improvement solutions may include the analysis, design, development, or evaluation of:
Staff training and development
Volunteer orientations
End client education workshops and programs
E-learning modules and computer-based instruction
Online educational seminars
Regulatory or compliance training
Job specifications and documentation
Workflow design
Job aids on critical tasks
These are just some of the many service-learning projects that college student volunteers design that are aimed at improving the client organization's performance and that affect employees, volunteers, and customers. Please contact us to discuss potential service-learning projects for your organization.
Projects To Date
Since 2014, Designers for Learning service-learning projects have involved over 3,000 people, including college students, their faculty sponsors, and other subject-matter experts. Volunteer service-learners have designed and developed open educational resources for the adult basic education program at Grace Centers of Hope, a nonprofit based in Pontiac, MI that provides General Educational Development (GED) test preparation for homeless individuals who have not graduated from high school, as well as an open service-MOOC in 2016.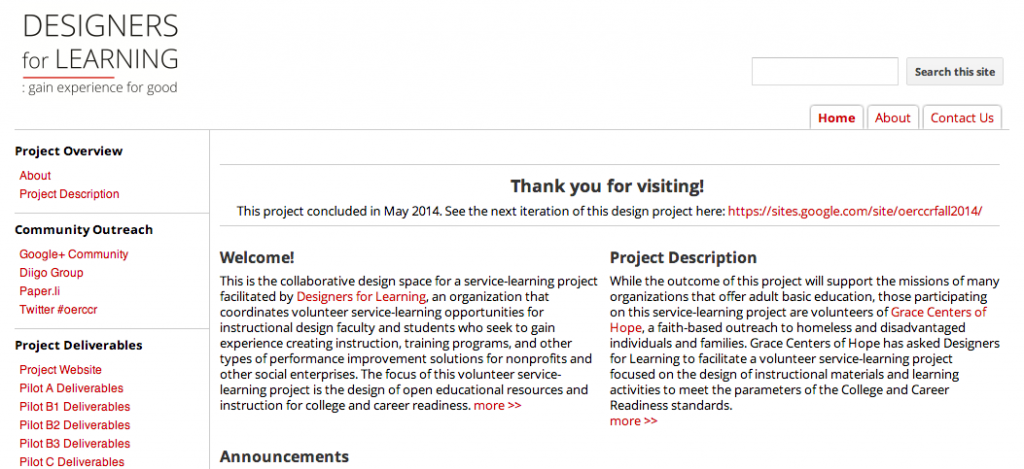 Our Approach
This performance improvement process begins with conversations about the mission, goals, and functions of the client organization. We then discuss how factors both inside and outside the organization are affecting their ability to achieve desired results, including the performance of employees, volunteers, and customers. Ultimately, we drill down to the performance-related problems that are impeding the attainment of the organization's key objectives, as well as the untapped opportunities to improve the results that truly matter to the client organization.
From there, we work together to narrow the focus to critical performance-related issues to target. During a competitive selection process, college student volunteers are selected by the client organization to design solutions that address the causes of the gap in performance.
Performance Improvement
What do we mean by performance improvement? Our core function is to help our client organizations reach their key objectives by designing solutions targeted at improving the performance of the organization, including the design of instruction and other solutions for employees, volunteers, and the customers they serve.