Our current projects. Join us.
What We Do
Designers for Learning helps nonprofits and other social enterprises achieve their missions by targeting underserved educational and curriculum needs. Participating in project-based service-learning courses, instructional design students and other volunteers develop solutions that are customized to targeted learning needs.
Our current focus is creating open educational resources for underserved adult basic education programs to support the millions of adults with low literacy and math skills. In 2016, over 4,000 people enrolled in our free Open Adult Basic Education service-learning courses to gain instructional design experience and develop free educational resources.
Projects To Date
Since 2014, Designers for Learning service-learning projects have involved nearly 4,000 people, including college students, their faculty sponsors, and other instructional design and subject-matter expert volunteers. Volunteer service-learners first designed and developed open educational resources for the adult basic education program at Grace Centers of Hope, a nonprofit based in Pontiac, MI that provides General Educational Development (GED) test preparation for homeless individuals who have not graduated from high school. We have now expanded on this work within large scale open service-MOOCs (massive open online courses) starting in 2016.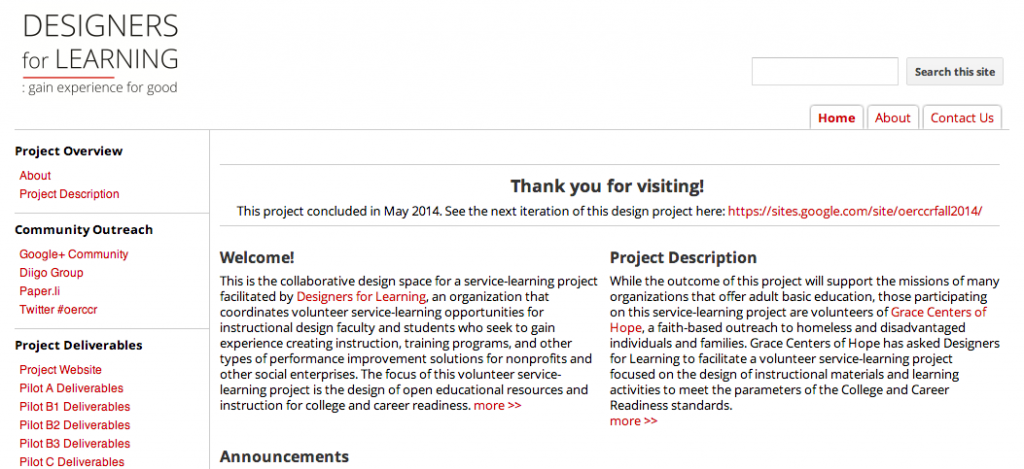 Our Approach
Our instructional design process begins with conversations with subject matter experts about the underserved needs. We then consider the factors both inside and outside the organization affecting results, including the performance of employees, volunteers, and other constituents. Ultimately, we drill down to the opportunities and problems that are impeding the attainment of these goals, and we work to narrow the focus to critical needs to target. College students and other volunteers then create solutions in crowdsourced design and development initiatives.