Client: Grace Centers of Hope
Designers for Learning worked with 
Grace Centers of Hope
 to facilitate a volunteer service-learning project (
see project website
) focused on the design of instructional materials and learning activities to meet the parameters of the College and Career Readiness standards. The 
e-service-learning
project involved 22 college students and 18 faculty advisors from 14 different instructional design programs who collaborated in a 100% virtual project. The student service-learners worked on three project to explore the design of open educational resources (OER) and instruction for college and career readiness, including:
Pilot A – Mapping and Mining of Open Educational Resources
Pilot B – Design and Development of Prototype Instructional Unit
Pilot C – Design and Development of Computers for Learning Instructional Unit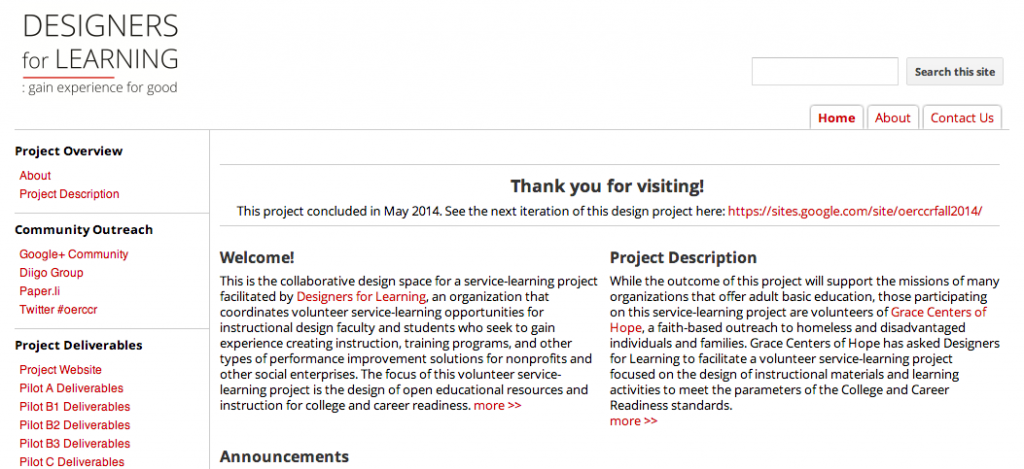 While the outcome of this project will support the missions of many organizations that offer adult basic education, those participating on this service-learning project are volunteers of Grace Centers of Hope, a faith-based outreach to homeless and disadvantaged individuals and families. Grace Centers of Hope provides a full recovery and rehabilitation campus for homeless men, women, and children who have been abused or addicted to drugs and/or alcohol, including a one-year residency program for adult male and female clients recovering from drug, alcohol, or other challenging issues.