---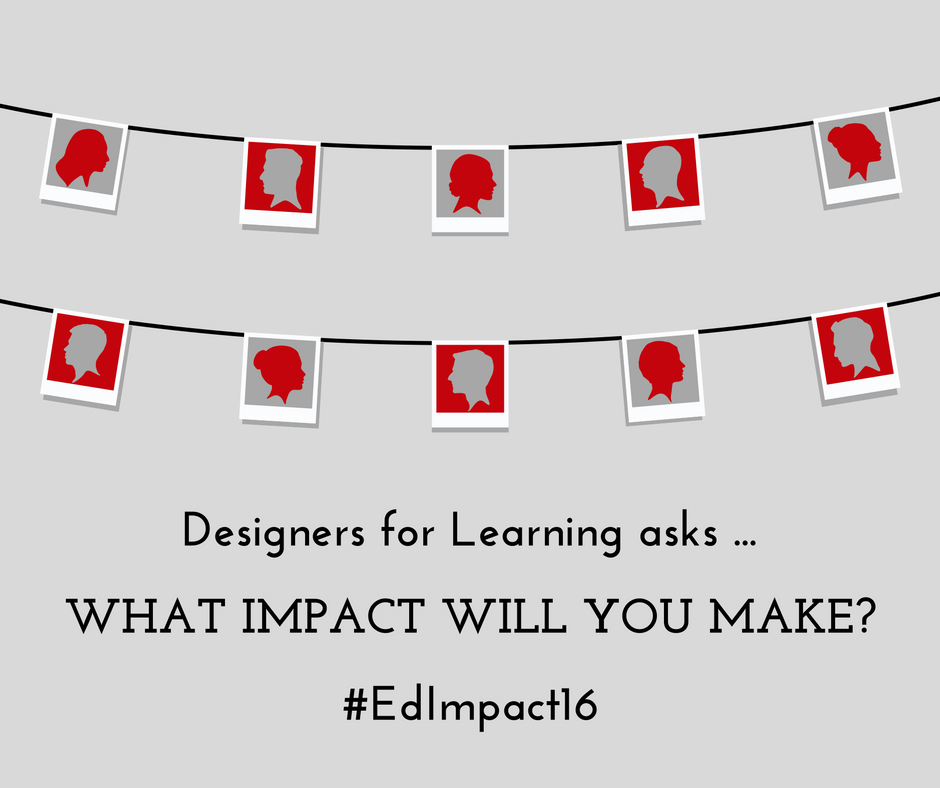 ---
What Impact Will You Make?
Designers for Learning is hosting a booth at the Association for Educational Communication & Technology (AECT) annual convention in the exhibitor area from Tuesday, October 18th through Friday, October 21st. As a nonprofit with a service-learning mission, our focus is on educational impact. If you will be at the conference, please stop by to share your stories of educational impact (your past successes, current initiatives, and planned innovations). During the conference, keep an eye on social media where we will post your stories under the hashtag #EdImpact16.
---
Join our #AECT16 convention sessions!
Many Designers for Learning volunteers will be presenting during the convention. If you will be in Las Vegas at the convention, please join us during these sessions about our recent service-learning projects, including:
Service Learning MOOC Facilitating Strategies: This panel session will review the facilitation strategies used in our service-learning MOOC. The lessons learned from this process will be presented and discussed.
Focus: service-MOOC Facilitation

When: Wednesday, October 19

th

1:00 p.m. to 2:00 p.m.

Where: Conference Center, Pavilion 9

Type: Panel Discussion

Division: Distance Learning
Badging for Good – Perceptions of Earning a Digital Badge in a Service MOOC: This presentation will explore learner perceptions of receiving an Instructional Design Service digital badge at the culmination of our service-learning MOOC. Participant insights include the impacts of earning a badge on their levels of motivation, the level of status recognition they attribute to the badge, and their plans for using the badge as evidence of achievement.
Focus: Badges & Online Learning

When: Wednesday, October 19

th

3:30 p.m. to 4:30 p.m.

Where: Conference Center, Pavilion 11

Type: Concurrent Session

Division: Distance Learning
Design & Development – Awardee Presentations: As the Outstanding Practice Award recipient, Designers for Learning will be recognized during an award luncheon, and team members will present an overview of our #OpenABE service-MOOC in this special session.
Focus: 2016 Outstanding Practice Awardee Presentation

When: Thursday, October 20

th

2:15 p.m. to 3:15 p.m.

Where: Conference Center, Ballroom A

Type: Special Session

Division: Design & Development