Do you want to gain instructional evaluation experience?
Join our free instructional evaluation service MOOC
to evaluate and redesign open educational resources for Adult Basic Education
We are excited to offer a free self-paced service course managed by Designers for Learning, a 501(c)(3) nonprofit organization in the United States that coordinates service-learning opportunities for those who seek to gain experience creating instruction to support important social causes. This self-paced is offered on Canvas Network, a massive open online course (MOOC) platform.
During this service-learning course, you will engage in a real-world authentic instructional evaluation project that centers on the evaluation and revision of open educational resources (OER) for adult basic education (ABE). In this project-based course, you will gain both instructional evaluation and design experience when you redevelop instructional materials that will be made available for free to adult educators and learners in the Adult Learning Zone group on OER Commons.
What is the course focus?
This project-based course focuses on a real-world instructional need. As a participant in this course, you will evaluate and adapt open educational resources for adult basic education. You will begin the evaluation process by dissecting the adult basic education design scenario to explore key aspects of the opportunity. What are the needs, goals, and constraints? Who are the target learners? What is the instructional context? As part of the instructional evaluation, you will select an open educational resource that was designed and developed in a prior Designers for Learning cohort to evaluate the extent to which the instructional materials are effectively and efficiently designed and developed to meet the needs and constraints. Based on this evaluation, you will then adapt the materials you reviewed into a new lesson or revise the open educational resources to enhance the:
instructional strategies and assessments,
learner experience features, such as directions and help, aesthetics of display, lesson sequencing, and overall ease of use,
affective considerations, such as arousing curiosity, establishing relevance, the offering appropriate level of challenge, and maintaining learner's attention, and
display features, such as images, graphics, audio, animation, video, or print materials.

What are the costs & prerequisites?
Cost: This course is free.
Prerequisites: There are no prerequisites for the course.
Required resource purchases: None.
What is the time commitment?
To be successful in this course, you should plan to devote a minimum of 24 hours of time to complete the design project. Like most experiences in life, the worth of this service-learning course is related to the time and effort committed to it. Therefore, while lurkers are welcomed, the experience will be enhanced through active participant engagement in discussion and course activities. Your personal commitment to actively engage at least 24 hours in the course will help to support a worthwhile experience for you and others.
In addition, participants have the opportunity to engage in an optional live Designer Dialogue sessions on the second Tuesday of each month. These hands-on collaborative online webinars allow participants the experience of sharing and comparing evaluation findings and design adaptations with other course members and facilitators.
What is different in this version of the course?
Were you a participant in a prior Designers for Learning service project, but ran out of time to complete your project? If so, please consider enrolling in this self-paced course! Building from our previous design courses, this developmental evaluation course focuses on evaluation and revision/adaptation of our existing roster of open educational resources for adult basic education. This shorter self-paced course experience is great for those who want to gain experience for good, but would like a shorter time commitment.
What have prior students said about the course?
When asked how this service-MOOC helped to meet personal or professional goals, here is how some of the course participants responded:
Having a project-based course is helpful as I learn best when DOING something rather than just thinking about it.  At the end, I will have a document that I can add to my digital portfolio.
Gives hands-on, real-world experience.
It has deepened my understanding of each phase of the instructional design process.
I wanted to update myself on curriculum development. The course is set up well and the materials are excellent. I already work in adult education and I knew about the College and Career Readiness Standards (CCRS), but had not had the opportunity to review them carefully. The lesson planning activities are also excellent. As we read, we are able to think about the specific components of our lesson.
In the discussions, I was able to read about other people's various ideas. Also, I could build networks with people who are interested in the same issue / topic (e.g., ESL teaching).
In other feedback to the facilitators about the course experience, participants shared:
Your course design is fabulous! I really appreciate how thoughtful and intentional you were in mapping out our journey.
Thank you so much. I learned a lot about the design process.
I am very honored to be a part of this course. I hope to be of more assistance once the course has completed. Please keep me in mind for future opportunities.
Why should I participate in this course?
Gain Experience for Good
Through your participation in this course, you will further your own professional development in instructional design and evaluation, while offering your service contributions to a grossly underserved educational segment of adult learners and instructors. In the U.S. alone, 30 million adults do not have high school credentials, but less than 2 million are currently supported within federally funded adult education programs. While we have a U.S.-centric focus on this project, support for adult education is a need around the globe, and the open educational resources created on on this project can be adapted for other contexts.
Earn an Instructional Evaluation Service Badge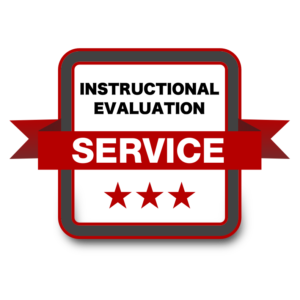 Upon successful completion of this course, you will earn an Instructional Evaluation Service Badge to acknowledge that you have completed an instructional Evaluation process to develop an educational resource to support a social need. In other words, you have gained experience for good! To earn an Instructional Evaluation Service Badge, you must:
Complete the requirements in Canvas Network
Submit a final deliverable meeting all of the requirements
Earn a Certificate of Recognition
Upon successful completion of this course, you will also receive a Certificate of Recognition* from Designers for Learning recognizing your instructional evaluation service contribution. Successful completion will be based on:
Your successful completion of all Instructional Design Service Badge requirements (see requirements above)
Your submission of a complete final deliverable meeting all of the requirements
* Please note that we do not offer a letter of reference or other certifications based on this experience given the relatively short duration of the project (i.e. an estimated 40 hours of design work), and the anticipated number of participants.
Expand your CV, Resume, or Portfolio
We are often asked how participants in our projects should describe this service-learning experience in a CV, resume, or portfolio. Some suggestions are to:
Describe this course experience within the "service" section of your CV or resume.
Include that you were a participant in a service-learning project facilitated by Designers for Learning.
Note the scope and duration of the project, and the number of service hours you spent working on the instructional design project.
Provide details of your specific contribution, and the outcome of your efforts.
Given that all content produced within this project is released under a Creative Commons license, feel free to include copies of the work you produced on this project within your design portfolio.
What will I do in this course?
During this self-paced course, you will progress through parts of a design cycle (see figure below) within three course modules. Each module contains material for your review and activities to complete related to the instructional evaluation project you are completing to evaluate and redesign open educational resources for adult basic education.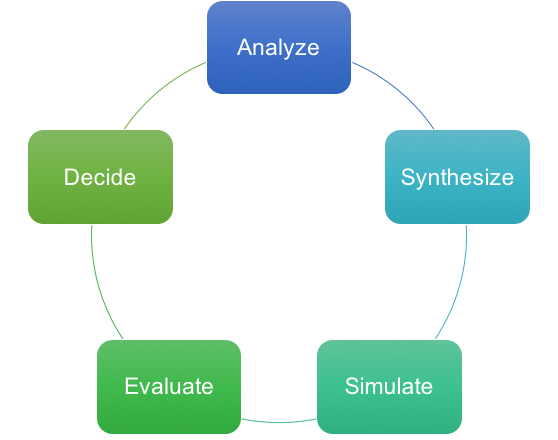 This course is designed to be self-guided, and you will work at your own pace reviewing each module's materials, participating in the prompted discussions, and completing your individual assignments. The module activities include individual practice exercises, reflections, and assignments, as well as conversation prompts to ponder within a whole class discussion forum. 
What support will I receive in this course?
While this course is designed to be self-guided, volunteer facilitators are here to support your progress through the course. Given the size of the course, the facilitators will not review or grade your assignments, but they will be available to answer your questions in the online help forums and during the optional live Designer Dialogue webinars. In addition, other participants in the class and the facilitators will share their perspectives within the discussion forums, and participate in the prototype evaluation.
What is the instructional evaluation project?
This is a project-based course that focuses on a real-world instructional need. You will gain instructional evaluation experience while reviewing and revising open educational resources that will be made available for free to adult educators and their learners. Here is an overview of the instructional design project:
The open educational resources you design and develop will support adult learners who have not completed high school and are taking adult basic education courses as they prepare for high school equivalency exams (i.e. the GED, HiSET, or TASC tests) or other certifications.
The instruction you design will align with the College and Career Readiness Standards (CCRS) that underly high school equivalency exams and other adult basic education programs.
You are able to select from any of the previously designing open educational resources
The open educational resources you evaluation and revise will incorporate all necessary content presentation, learner practice, and assessment materials for instruction on the standard and topic you have chosen, as well as guidance for instructors regarding use of these materials.
Do I work on the instructional design project alone?
While this course is designed for individuals working alone on an instructional evaluation project, you are welcome to work on the instructional evaluation project with others, including as part of a class project or practicum in an instructional evaluation program. In addition, faculty are invited to include this project in an instructional design class they are teaching.
Why is this called a "service" course?
This course is a service-learning experience where you will gain experience for good. Service learning is an educational approach that incorporates academic coursework with opportunities for applied learning. Service-learning is a unique form of experiential learning in that community service is a central component of the experience. A hallmark of service learning is the reciprocal benefit gained by the learner from the experience, and by the community from the service provided.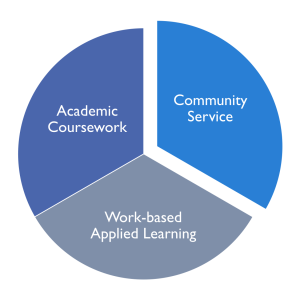 Why is adult basic education an important need?
This infographic prepared by Digital Promise summarizes key findings from the Organization for Economic Cooperation and Development (OECD). It highlights the importance of the need to support the millions of U.S. adults with low literacy and math skills.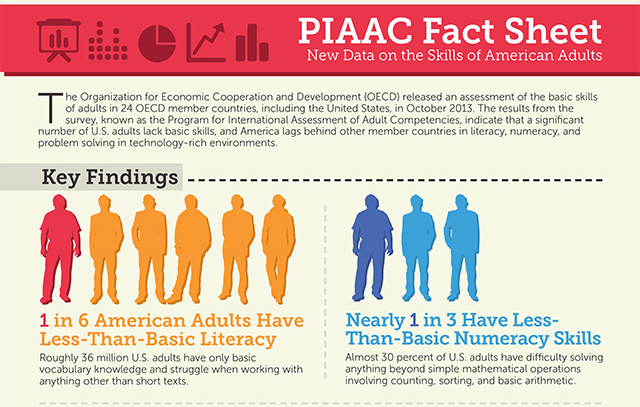 What are Open Educational Resources?
In this course, you will gain instructional design experience while developing open educational resources that will be made available for free to educators who provide educational opportunities to these adult learners. As defined by the William and Flora Hewlett Foundation:
"Open educational resources (OER) are teaching, learning, and research resources that reside in the public domain or have been released under an intellectual property license that permits their free use and re-purposing by others. Open educational resources include full courses, course materials, modules, textbooks, streaming videos, tests, software, and any other tools, materials, or techniques used to support access to knowledge."
Who are the course designers and facilitators?
A unique aspect of this course is that it was designed and is being facilitated by an all volunteer team with Designers for Learning. Starting in the fall of 2015, a team of volunteers designed and facilitated the first implementation of the design course. A new team (most from prior Designers for Learning projects) are volunteering as course facilitators in this course. You will meet many of these volunteers in course videos, and in the discussion forums. The team of volunteers includes professional instructional designers and adult educators with years of subject matter experience. For more information about the design team, the subject matter experts, and our design process, please visit our website where you will find:
These professional educators and instructional designers are volunteering hundreds of hours of time to design and facilitate this service-learning experience. A conservative estimate of the professional services donated by the volunteers who designed and are facilitating this course exceeds $25,000. We thank them for their volunteer service!
Questions or Comments?
Do you have comments or questions about this course? Would you like to get involved with our organization? Please help us spread the news about this upcoming course by forwarding this announcement to other interested colleagues or students, and connect with us at: