---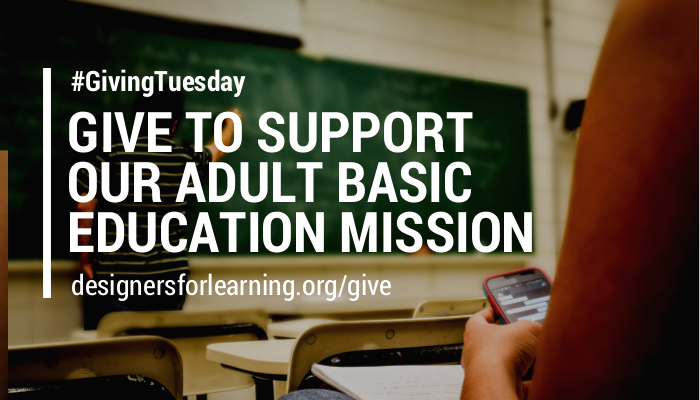 ---
#GivingTuesday | Ways to Support our Mission
Today is #GivingTuesday, a global day of giving. As we kick off this charitable season, please consider supporting Designers for Learning's adult basic education mission. As a 501(c)(3) nonprofit, we rely on those in our network to help us help others through donations and enrollment in our professional development experiences. As you consider ways to give back this holiday season, we've pulled together several ways you can provide your financial support. Any way you choose to give and any amount is appreciated!
---
Facebook Fundraising Campaign
On #GivingTuesday, Facebook and the Bill & Melinda Gates Foundation will match up to $2 million of funds raised on Facebook for eligible US nonprofits, including Designers for Learning's Facebook fundraising campaign (linked here). Donations to nonprofits made through Facebook's charitable giving tools on November 28th will be matched up to $50,000 per nonprofit (or $1,000 per fundraiser) until the $2 million in matching funds is exhausted.
---
PayPal's Holiday Giving Fund Campaign
From November 28th through December 31st, PayPal will add 1% to all donations made through PayPal's Holiday Campaign on Designers for Learning's unique PayPal Giving Fund link! #GivingTuesday donations add up. In 2016, PayPal users donated a record-setting $48 million on this global day of giving.
---
Employer Matching? Double the Donation!
Double your charitable donation to Designers for Learning through employer matching. Find out if your donation can be matched by your employer by heading to Double the Donation's website. Double the Donation is giving their service away for free through December 12th, 2017. Access their database of companies to see if your employer will match your donation, find company-specific matching gift guidelines and forms, and link to electronic submission sites.
---
Enroll | Design in the Open Challenge
Help us fund our operations by signing up for our new Design in the Open Challenge that starts January 1, 2018. We're offering this brand new professional development opportunity for a deeply discounted rate of $20 per enrollment. 100% of the proceeds will go directly to funding Designers for Learning's operating expenses.
What's the focus of this new design challenge? Helping you cultivate your professional presence in your chosen field. We firmly believe that landing a job involves far more than assembling artifacts you've created within a portfolio. It's also necessary to openly share your process and your work. This self-paced independent study experience was inspired by Austin Kleon's Show your Work: 10 ways to share your creativity and get discovered. As you start the new year, you'll network with others as you undertake short challenges geared toward establishing your professional presence while contemplating various perspectives on how to develop an open reflexive process from those walking the talk:
---
Shop Using AmazonSmile
AmazonSmile is a simple and automatic way for you to support Designers for Learning every time you shop, at no cost to you! Shop for everyone on your gift list this holiday at Designers for Learning's unique smile.amazon.com link and Amazon donates to Designers for Learning.

When you shop Amazon using AmazonSmile, you'll find the same prices, selection and convenient shopping experience as Amazon.com … with the bonus that Amazon will donate a portion of the purchase price to Designers for Learning!
---
Please share with your network
Most people hear about our work through word-of-mouth. Please join us to positively impact adult education by donating, enrolling, and sharing this announcement with your network. Thank you!
Jennifer Maddrell, Executive Director
Designers for Learning
---
Designers for Learning is organized as a nonprofit corporation in the State of Illinois, and operates exclusively for charitable purposes in accordance with section 501(c)(3) of the U.S. Internal Revenue Code under EIN of 47-1639401 on the IRS Exempt Organizations website. Our mission is to provide educational resources and service-learning experiences designed to promote all aspects literacy. We promote service-learning opportunities through collaboration with students, volunteers, schools, and other social enterprises.