---
Happy birthday … to us!
One year ago this week, Designers for Learning received our 501(c)(3) approval from the U.S. government granting us official status as a nonprofit public charity. While it took over a year from our August 2014 incorporation in the State of Illinois to receive final approval, it was worth the wait!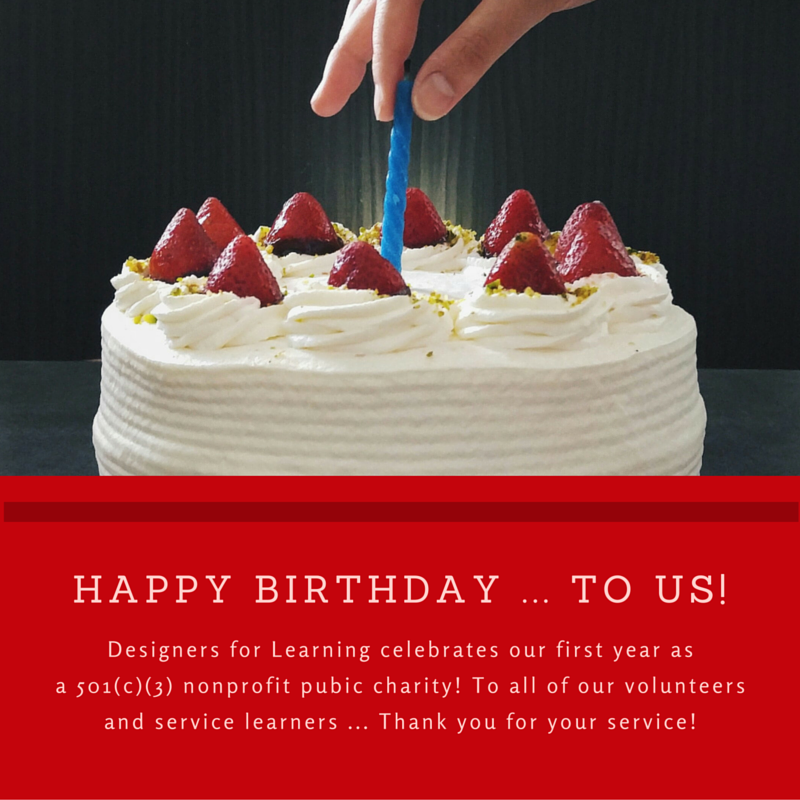 When we set out in 2014 with a mission to provide service-learning opportunities for those interested in developing instructional solutions for nonprofits and underserved social needs, we never imaged we would be celebrating our first "official" birthday with over 2,000 project volunteers and participants in our courses! Thank you for joining us to surpass our wildest goals!
If you were involved in one of our service projects as a volunteer or course participant since 2014, please post a reply in the comments so we can wish you a "happy birthday", too!
---
Connect with Designers for Learning
Do you have comments or questions about our projects? Would you like to get involved with our organization? Please connect with us at:
Designers for Learning is organized as a nonprofit corporation in the State of Illinois, and operates exclusively for charitable purposes in accordance with section 501(c)(3) of the U.S. Internal Revenue Code. Designers for Learning promotes service-learning opportunities through collaboration with schools, students, and volunteers.